Papers 3.4.3 is an application that bundles all the great technologies that come with Mac OS X to give you a complete new workflow for reading scientific articles.

You can find, download, archive, and organize all your articles within a single application. 

But that is just the start, using spotlight you instantly find back the paper you are looking for.

Read it full-screen, add your notes, and then send a copy to one of your colleagues. These are just a few of the many features that after using them yourself you will never want to give up again.

 Do you also have dozens of PDF files from your favorite scientific articles scattered in the form of PDF files on your hard drive? Do you also try to desperately archive them by renaming and organizing them in folders?

But like the piles of printed articles on your desk, you can't keep up with all the new papers you download and despite all your efforts it has become impossible to find that one article back. 

Finally that all belongs to the past now.
We've been there, trust us, we know. That's why we wrote Papers, our latest application exclusively for the Mac. Papers will revolutionize the way you deal with scientific papers. 

Search for papers using PubMed, directly retrieve and archive PDFs, and read and study them all from within Papers, your personal library of Science.
What's new in Papers 3
Version 3.4.3
Citations
New Features
Citations supports citing with Manuscripts, a new writing tool for researchers.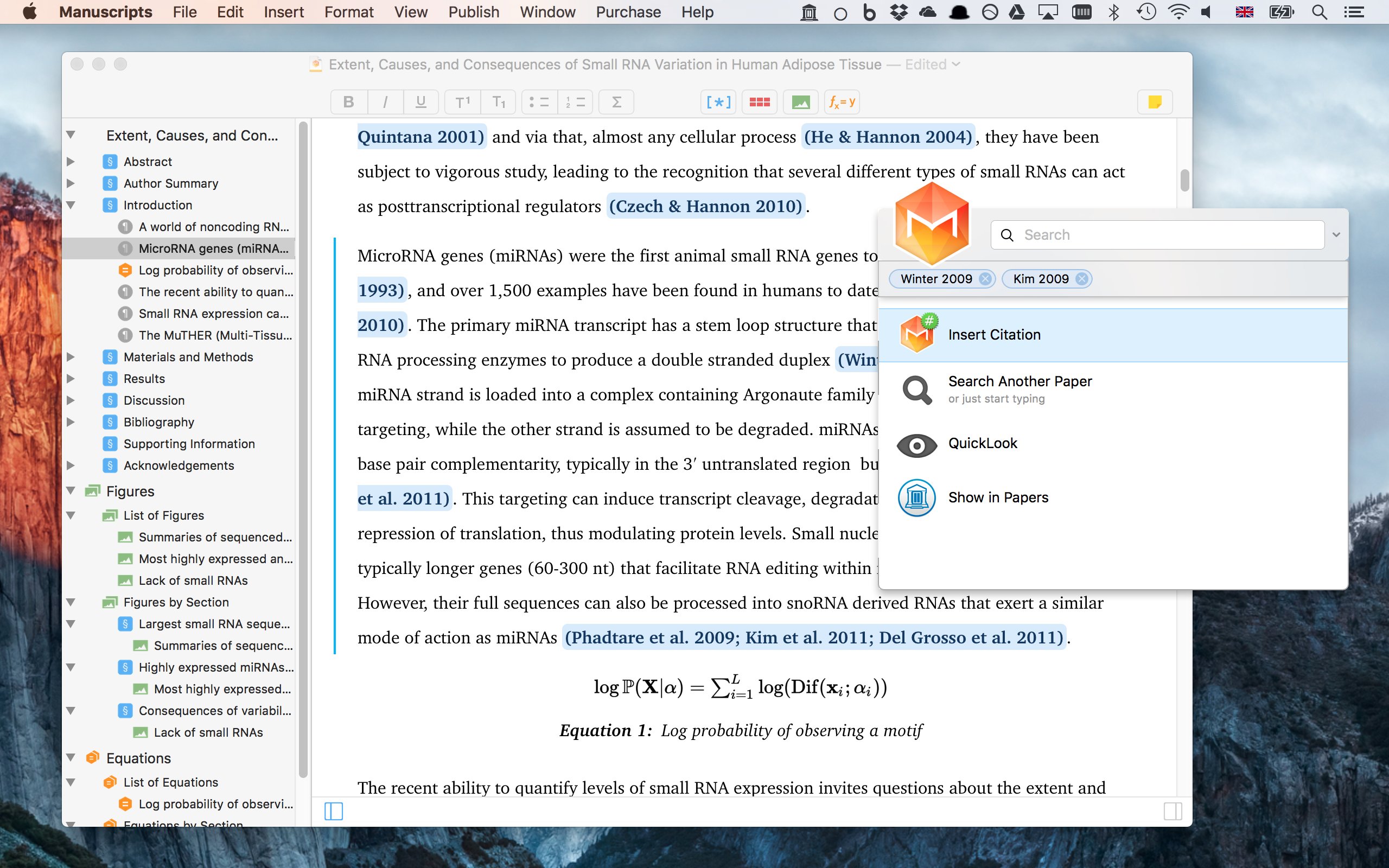 You can now cite in:

iA Writer 3
Texts
OneNote
Sharing
You can now share papers via more services, as we now use OS X's built-in sharing services for sharing.
You no longer need to add your Twitter or Facebook credentials to Papers to share. Just sign in via System Preferences > Accounts.
New ways of sharing your papers: Link, Papers Link, PDF, PDF with Annotations, Reference List, and Papers Archive.
General
Adds an option to disable text and line art smoothing in PDFs to General Preferences. This may improve image quality on non-Retina displays.
Scripting
A publication's citekey can now be set via scripting.
Adds new scripting properties:

class publication item:

customized citekey
universal citekey

class file item:

file name
formatted file name
full path on virtual disk
Features:
Supports searching via the new Scopus search API. You no longer need to specify a Scopus ID if your institution has a Scopus subscription.
Adds support for searching via ScienceDirect.
Fixes:
ACM Digital Library's minimum request interval has been increased to 5 seconds.
PII identifiers are now interpreted correctly.
Fixes searching when using ISSN numbers.
Reading PDFs:
You can now use the space bar to scroll through PDFs.
In Reader mode, you no longer need to click inside of the PDF before keyboard navigation shortcuts work.
When adding highlight or underline annotations to a PDF, overlapping annotations of different types or colours are no longer merged together incorrectly.
General:
Fixes a crash when trying to display a collection with an empty name.
Resolves an issue where Papers could become unresponsive when attempting to export a library as an Endnote XML file.
Fixes a crash when using the notes exporter to export Papers that do not contain any notes.
Improves performance when switching modes or typing.
You find the exact set of changes in the release notes under the help menu.
Papers 3.4.3 (Mac OS X) | 77.5 MB
by macos-app.com